In September, Terre de Vins magazine honored Yves Falmet with an article about the help he has been providing to Ukrainian refugees since the beginning of the war.
At first, he immediately offered accommodations to refugees.  But as things progressed, it seemed obvious and necessary to do more so as not to leave them in disarray. Far from home, without income and without speaking the language of the host country, the refugee situation is indeed precarious and humiliating.  As you will see in the article below, gradually the idea came to him to create a tailor-made job for one such refugee – Alona Biloshytska, to manage the social networks of his Domaine.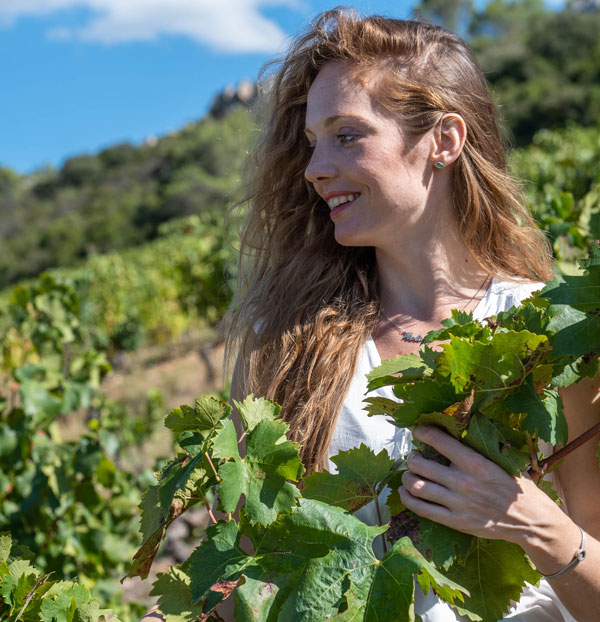 Below is the full interview published in the magazine Terre de Vins on September 15th:
"Since the first day of the war in Ukraine, Yves Falmet, owner and winemaker at DOMAINE DES TERRES FALMET in the Saint-Chinian, has volunteered to welcome refugees.. A few days ago, to show his solidarity with the Ukrainian people, he went as far as to hire Alona Biloshytska, a 33-year-old Ukrainian, to manage the communication of his estate.  At the same time, he also gave over his entire house to a Ukrainian family (Iryna and her daughter), while he went to live in his accommodations that he uses for his seasonal workers… 
"Can a winemaker keep a clear conscience when he sells his wine in a country that is in the hands of a murderous despot, not hesitating to intervene with the utmost violence to impose his reactionary ideology on other sovereign nations (Syria, Ukraine… )?  To ask the question is to answer it!"  Last April, on his website, Yves Falmet traded in his winemaker hat, for that of citizen revolted by the war in Ukraine. 
"I am a child of the French Revolution and for me these are fundamental values. My father and grandfather fought for France, freedom, and democracy..  It is deeply ingrained in me and I find it   unbearable  that Russia dares to attack a nation that has chosen to be free and independent," he explained over the phone.
From the first day of the conflict, he volunteered to welcome and help refugees.  In July, fate had him cross paths with Alona Biloshytska and her 8-year-old daughter, Viktoriia.  After having crossed both Poland and Germany, the mother and daughter arrived at the port town of Agde.   With little to nothing of their own, they finally arrived in the small village of Creissan, just west of the city of Béziers. 
"We decided that we needed to get to safety. The situation was becoming really dangerous in Ukraine, and we had to abandon everything," says the young Ukrainian woman, who had to leave her husband, brother and parents behind in Kiev.   "I finally feel like a person again, not a refugee!"  A psychologist by profession, she quickly realized the difficulty of integrating into a foreign country, especially with the language barrier. "I wanted to work, to pay for housing, and give my daughter a decent living environment, but I faced a lot of difficulties despite my level of education,"
"We must not forget that these are people who had a very good situation in their country and who suddenly find themselves searching for work and eating in soup kitchens.  Can you imagine the shock?", Added Yves.
Even with Yves' help, it was impossible to find a job for Alona.  Refusals followed one after another.  Finally, an idea germinated in his mind.   Why not hire her myself?  "I had to give something more than a simple roof, housing is good, but an active life is an even better way to integrate and regain one's dignity, continued the winemaker.   Today, Alona has carte blanche to manage all the communication on our social networks, I am sure she can contribute a lot ."  Alona has also started to learn French and her daughter has enrolled in the village school. "I feel safe and again like a person, not a refugee," she says.  In addition, I have the chance to taste Yves' wines, which are delicious.  He is a man of great kindness.  He did not hesitate to leave his own house, turning it over to a Ukrainian friend (Iryna) and her daughter before offering me a job. I will never forget his gesture!"
To follow Alona's adventures, visit: https://www.instagram.com/alyona_biloshytskaya/?hl=fr
And for those of TERRES FALMET, visit: https://www.instagram.com/terres_falmet/?hl=fr
About TERRES FALMET
The Domaine des Terres Falmet was created from scratch by Yves Falmet in 1996.. This native of Champagne now has about twenty contiguous hectares on a single hillside, a rarity in Saint-Chinian.  He is certified "Haute Valeur Environnementale" (HVE = Certified highly sustainable agriculture), using no pesticides of any kind.   Yves produces six different wines including a "Unicorn" of a wine, called – "A Contre-Courant", which is a red wine aged for 4 years "sous voile" (under flor) made from old vine Grenache and Carignan grapes.  "It is a cuvée that I created for true wine lovers, those who do not resign themselves to the standardization of taste, stereotypically uniform wines, in short, it is a rejection of ultra-conformism" he says.  In addition to the "A Contre-Courant", Yves produces an Aramon, a Cinsault, a Carignan, a Mourvèdre, a rosé, and a classic Saint-Chinian, called – "L'ivresse des Cîmes", made with grapes from the steepest  plots in his vineyards."